Fixing Devices and Attachments
We have range of Fixing / Anchoring Devices that will make Installation of Safety Nets quickier and safely.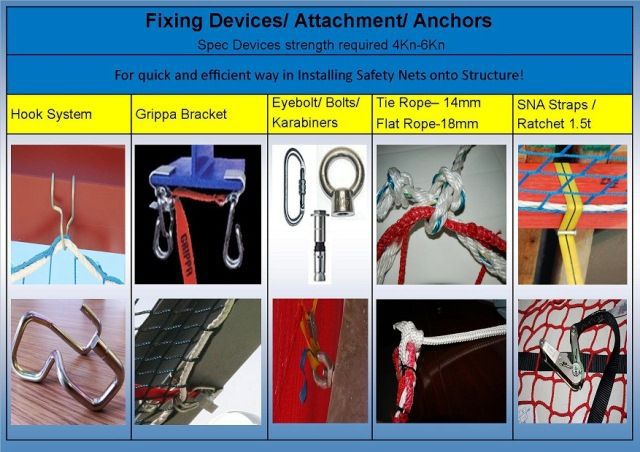 After more information on the netting system please download our Brochure.
All our Devices are TESTED locally to NATA Standards and International standards.
Lyon Hooks/Claw Hook -

Quick fixing devices for the I-Beam / Structure Steel

Grippa Brackets-

Clips on I-beam and two nets can be connected

.
Karabiners

with Screw nut

Eyebolts -

For Concrete or Steel attachment

.
Snap Bolts 16mm/100mm - No chemicals required
Tie Rope 12mm/3 strand: Conventionla method of fixing Nets onto any Struture.
Flat Rope 18mm : One of the Best Ropes to fix Nets on any Structure without the worry cuts
Safety Nets Straps:

Quick, Easy and Sits very Flat, no need to worry about different type of Knots

.
To buy the Safety Nets Installation Manual, click on the selection button below
Safety Nets Install and Training